Albany Smooth Fiberglass Door Install.
We were thrilled to install this beautiful Albany Smooth Fiberglass Door in heritage blue with statin nickel hardware for the Gustafson's. Albany Doors is Chicagoland's local residential entry door manufacturer. These doors can be completely customized to give you all the design and style options you could want in your entry door system. They also offer one of the best warranties in the business. All of us at Sunshine Siding & Window LOVE installing Albany Doors as they offer superior quality at competitive pricing. We also respect that they too are a family owned business.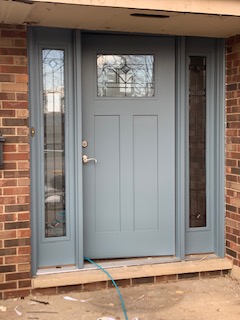 Alliance Hawthorne Bow Window Install.
While we were installing a new entry door, the Gustafson's also had us kick up their Schaumburg home's curb appeal by adding a replacement bow window by Alliance Hawthorne. This gorgeous new bow window features foam in the frame technology and an all white, pre-finish white interior.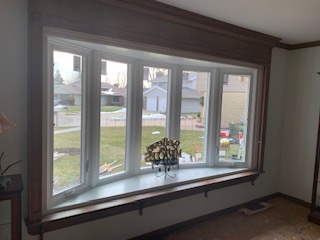 If you are considering a new entry door or windows for your Schaumburg home, please be sure to contact us today!