Sunshine Siding & Windows Co.
Serving the windows, siding, gutters, and exterior door needs of the Northwest Suburbs of Chicago since 1973.
For Free Quote & Design Consultation Call Us Today:
Get a Quote For Your Project
No Project Too Big Or Too Small
SERVICE IS OUR BUSINESS
SINCE 1973, OUR EXPERIENCED TEAM OF SKILLED PROFESSIONALS HAVE BEEN PROVIDING EXPERT INSTALLATION OF PREMIUM QUALITY SIDING, SOFFIT/FASCIA, WINDOWS, DOORS, GUTTERS, AND GUTTER PROTECTION SYSTEMS FOR COUNTLESS SATISFIED CUSTOMERS.
For Free Estimates Call: 847-895-0078
Or Visit Our Showroom at 904 S Roselle Road – Suite 210 Schaumburg, IL 60193
Why you won't be disappointed when you hire us – Our company was established in 1973, with industry craftsmanship for your exterior remodeling. This means your project will be handled by a business that can get the job done on-time, with the highest respect for your property. Plus we offer you a "5-year Workmanship Guarantee" on our work to make sure you are satisfied well after the job is done. Please see "Our Guarantee".
As you already know, safety is a major issue when it comes to your home. That's why we set high standards for proper repair and installation to keep you and your home safe. When you hire us you get the peace of mind that you deserve.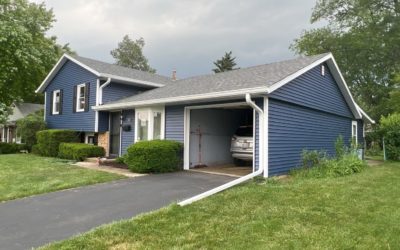 New Siding & Gutter Project in Roselle IllinoisCheck out this recent siding and gutter r installation projects we have completed in Roselle, Illinois.We are thrilled to share with you a recently finished siding, gutter, soffit, and fascia installation project in...
We've Been Building For Over 45 Years
SUNSHINE SIDING AND WINDOW COMPANY USES THE BEST PRODUCTS AVAILABLE FROM QUALITY MANUFACTURERS RECOGNIZED FOR THEIR EXCELLENCE.
Contact us today and speak with one of our professionals to arrange a free estimate! Quality solutions for siding, soffit/fascia, windows, doors, and gutters problems.
Discover for yourself why so many local homeowners trust Sunshine Siding & Window Co. Our Company services a variety of clients' exterior needs across Schaumburg Illinois and the Surrounding Northwest Suburbs.
Why Choose Sunshine?
Sunshine Siding & Window has the knowledge and experience that you deserve. For more than 45 years, we've made a name for ourselves in the home improvement industry. Our installers are expertly-trained, insured, and bonded. Your project will be assigned an on-site crew leader. This crew leader will supervise the work, to make sure we meet your needs. So the work will be done correctly, safely, and with the utmost respect for your home and property. We are also proud to say that we have an A+ Rated with the BBB, and have a 5-star rating on Google.
Insured
We carry General Liability Insurance, and Workman's Comp Insurance among other precautions to ensure that all parties are protected and legal.
Detailed, Written Estimates & Contracts
Settling into a contract without a detailed estimate can cause problems in the long run. So before signing a contract, Sunshine Siding & Window Company will provide a detailed estimate, which includes the cost of removing the old roof siding windows or doors, adding the new materials, and anything that could possibly come up in the process (such as rotten plywood that needs to be replaced). The detailed contract will list the work to be completed, the estimated time frame for completion, and the type and brand of materials being used.
5 Year Workmanship Guarantee
At Sunshine, we take pride in our workmanship. We offer you this guarantee as proof of our confidence in the quality of the professional installation provided by our skilled craftsmen. Sunshine Siding & Window Co. guarantees that your installation has been completed in a workmanlike manner according to standard practices. All work has been completed as per the specifications and conditions outlined in our proposal. Our workmanship is guaranteed for five years from the date of installation and is transferable through the life of the guarantee. This guarantee does not include damages beyond Sunshine's control such as windstorms, hail, ice, fire, lightning, or other "acts of God". Also, this guarantee does not cover any material defects. Materials are covered by the manufacturer's warranty. This workmanship guarantee applies to workmanship only and is not valid unless payment has been made in full compliance with the terms outlined in our proposal. This guarantee must be signed by an authorized representative of Sunshine Siding & Window Co. in order to be valid.
Call For a Quote:
847-895-0078
This business is very professional, friendly, not expensive and on time. They installed my home siding. They go beyond my expectations and I am happy with their service. The mangers Randy and Fil let me feel very comfortable and pleased. They address all my concerns and I highly recommend them. Best luck.
Professional and knowledgeable. We had major damage to our home, like many in our area from a storm this summer. Sunshine was there to help from providing support with the insurance company to make sure that we were given the proper amount to restore our home's siding, and even added gutter guards! Our job was started and completed as promised. The sunshine team made sure our yard was cleaned up as well after each day of work. We are so happy with the end results too! Our home looks beautiful! Complete peace of mind, trustworthy, and local business.
Purchased a new door from Sunshine and the salesperson patiently sat with me to go through choices and prices. The workmen that installed my door were efficient and clean and I could not be happier with the end product and service. I highly recommend this company.